BTC slid 6% as Ethereum reached a new two-month low at $3000 price point and the entire market took a beating as a result of the Chinese unstable markets that don't look better today as well so let's read more in our latest Bitcoin news today.
Bitcoin, Ethereum, and the rest of the crypto market continued sliding today after it took a big hit on Monday, and in the past 24 hours alone, BTC was down 6.4% and traded at $40,835 as per the data from Coingecko. In the meantime, Ethereum as the second-biggest cryptocurrency by market cap was valued at $2763 or dropped by 8.6% which is the first time that it did below the $3000 price point since August.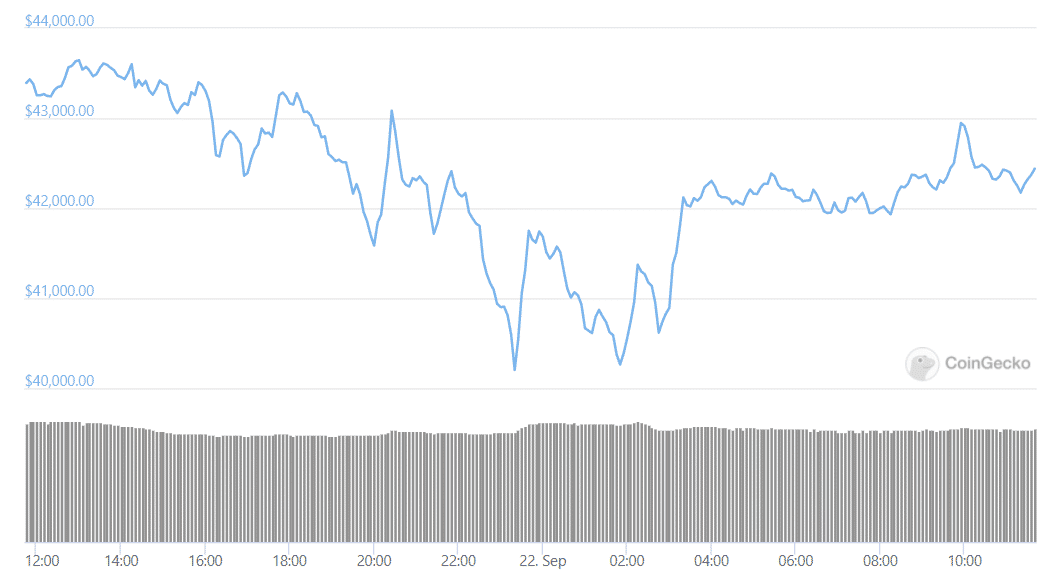 BTC 24-hour Price Chart (Source: Coingecko)
Other altcoins took a beating as well. Solana was the sixth biggest cryptocurrency by market cap and was trading at $122 which is a drop of 130% on the day and 35% from its ATH of $189 in two weeks. Cardano was worth $1.96 which means it marked a 6.6% drop in the past 24 hours. Every other altcoin in the red too and the rest of the crypto market started shifting since over $1.2 billion worth of crypto futures were liquidated in one day. The futures refer to a massive market where the investors place bets on teh future price of crypto and the positions get automatically liquidated especially when they are overleveraged which is the time when the market takes a nosedive. This is because the traders will not be able to pay back what they borrowed and the crypto crash gets related to the concerns of financial fallout.
Also, the Chinese company dubbed Evergrande was the main suspect of the recent market crash and the Chinese unstable markets because the real estate giant lost a debt of $305 billion. Some are worried that the Chinese property developer will not be able to pay back what it owes and it could lead to a massive collapse. The regulators warned that the financial system of the company could be in trouble if Evergrande does not find a solution and that the US markets will likely feel the economic turmoil as there are plenty of international asset managers and banks that hold Evergrande bonds.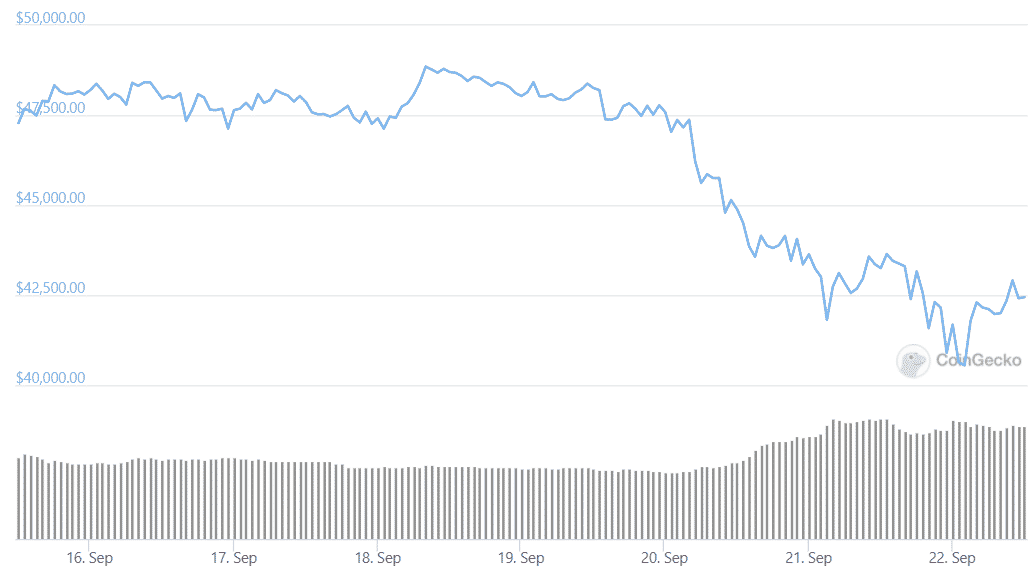 BTC 7-day Price Chart (Source: Coingecko)
As BTC slid 6%, the Dow Jones Industrial Average and the S&P 500 all took a hit as well following the uncertainty. Investors tend to flog riskier assets like equities when there's a global economic uncertainty so Bitcoin was no exception as well. The biggest crypto by market cap is struggling for a few weeks now despite El Salvador making it a legal tender. The cryptocurrency has not touched above $50K since September 7.
Source: BTC Slid 6% As Ethereum Reaches New Two-Month Low At $3000